Interest rates on regular business loans are currently on record highs. Many business owners are turning to intro 0% APR business credit cards in order to keep their business cash flowing.
With an intro 0% APR business card you get to carry a balance on that credit card, interest free, until the promo expires. Interest free money nowadays is unheard of so you can see why it's so attractive to many business owners.
In this post we will discuss why the card_name is a great option for a business intro 0% APR card.
What's the GM Business card?
The card_name is a card that earns rewards which you can use to redeem towards the purchase or lease of a GM car.
But in my opinion, the sweet spot of the card is the intro 0% APR for 12 months that it comes along with as part of the welcome offer. 
Why is it so unique?
What's super unique about the card_name is that they guarantee you an approval with only a soft pull. 
When you apply, they will first only do a soft pull to your credit report (soft pulls do not affect your credit in any way). After the soft pull they will tell you exactly what limit they will approve you for. Only once approved and you choose to accept the limit approved, only then will they do a hard pull and finalize the application. So this makes it a great choice as you're not risking anything by applying. 
I wish many more banks would start offering such an application experience but unfortunately, as of now, the card_name is the only business card that offers this. 
Recently we saw Amex introduce a similar application experience on the Amex personal cards but unfortunately, the Amex business cards do not yet have this application experience.
Does the GM Business card report on a personal credit report?
No. The card_name will not report on your personal credit report therefore, even if you carry a high balance, the balance will not affect your personal credit.
Do they approve high credit limits?
Our approval monitor is showing credit limits going all the way up to 40k! With an average credit limit of $21,571!!
If I am approved can I do a second card on a different business Tax ID?
After getting approved for your first card_name, you can get a second card approved if you apply for a second business using a different Tax ID.
Some people even reported to me getting approved the same day for two card_name on two business Tax IDs and each got approved for a 40k limit!
Which credit bureau do they pull?
As pointed out above, they first do only a soft pull but once approved they will do a hard pull on either your Equifax or Transunion credit report.
Can I apply without a business Tax ID?
Yes! You do not need a business Tax ID to get approved. Even if you run your business as a side hustle and you never established a Tax ID you can still get approved. 
Here is how to fill out the application as a sole prop, step-by-step.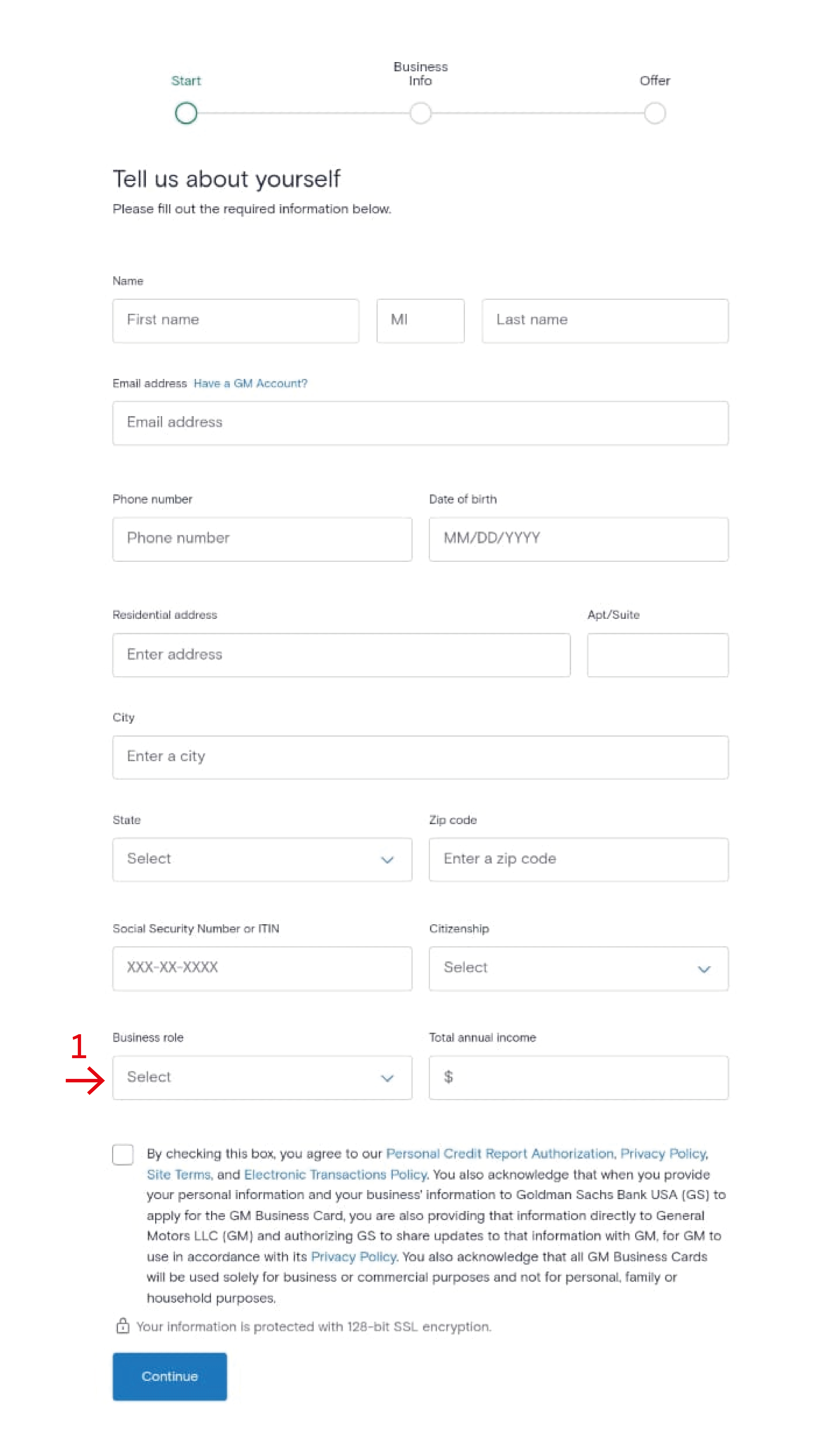 1. Business Role: Choose as applicable.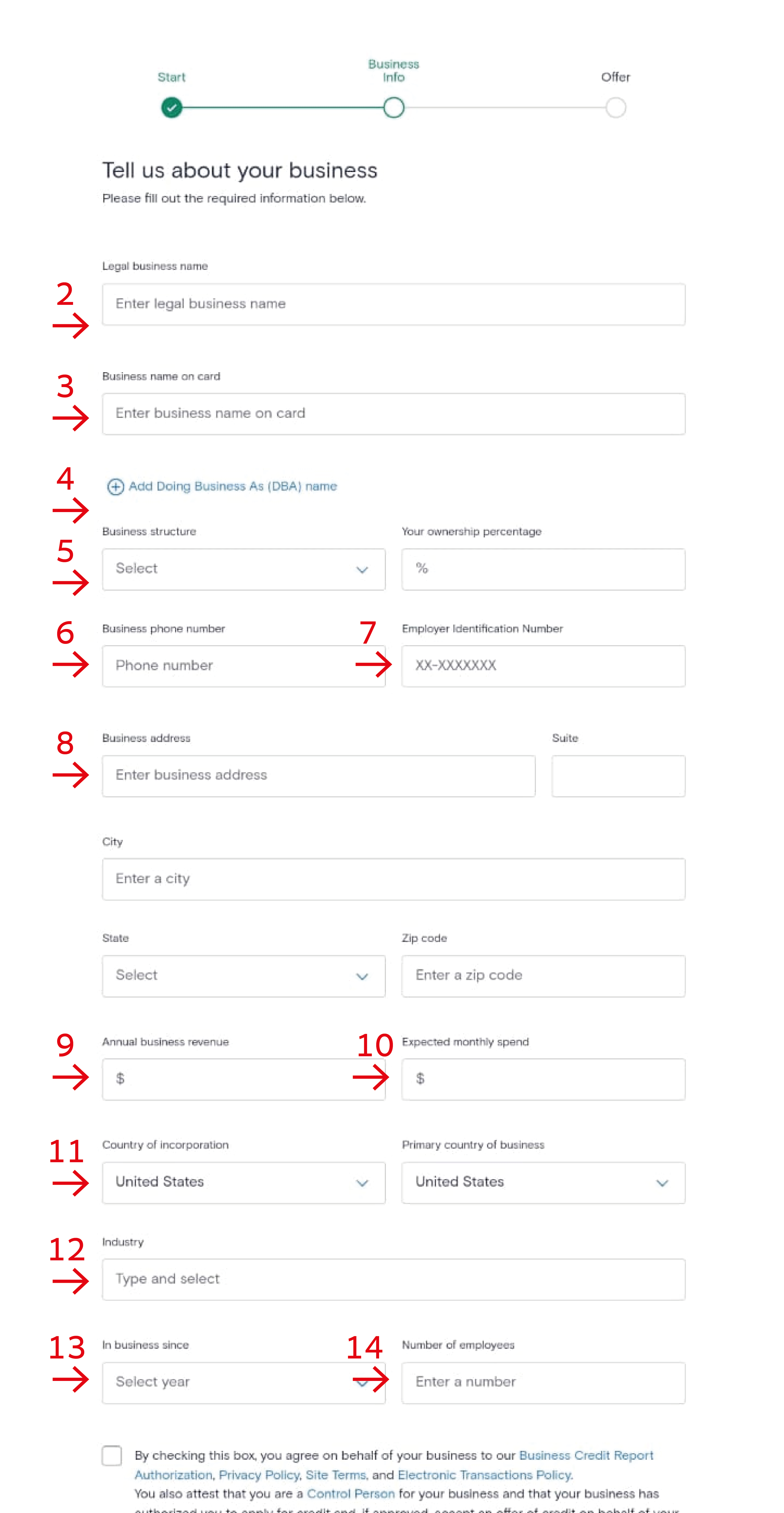 2. Legal business name: Write the business name. If the business does not have a name then write your own name, which is actually better as it will help you out later with providing proof of the business name, if requested (you can then send any utility bill that has your name on it)
3. Business name on card: Write any name you prefer to be displayed on the card
4. Add DBA (Doing Business As) name? It's optional so leave it blank. In most cases it is anyways "no"
5. Business structure: Choose "sole proprietorship"
6. Business phone number: You can put your own phone number
7. Employee Identification Number: If you are a sole proprietor and don't have an EIN then leave this blank
8. Business address: Enter your business address. If you run your business out of your house then write your home address.
9. Annual business revenue:  Put in the net sales of the business (How much money your business has in sales before deducting your expenses).
10. Expected monthly spend: Put in how much you spend per month
11. Country of incorporation and Primary country of business: You can put United States
12. Industry: Fill out whatever type of business you have (For example, if you sell your own knitted hats then your type of business is "retail trade").  
13. In business since: Enter the year your business opened (it's recommended to have a business open for a minimum of one year in order to get approved).
14. Number of employees: Enter the number of employees the business has, including yourself (so the minimum amount of employees needs to be at least one).
What other benefits does the Gm Business card offer?
The card has a $750 welcome bonus after spending $5,000 within the first 5 months.
The card earns
5% Earnings on eligible GM dealership parts, accessories, and paid certified services at GM dealers

3% Earnings on gas stations, restaurants, and office supply stores

1% Earnings on all other purchases
How can the Earnings be redeemed?
You can redeem your GM Earnings at the rate of a penny per Earning towards the purchase or lease of an eligible new Chevrolet, Cadillac, Buick, or GMC vehicle. There is no limit as to how many Earnings you can redeem.
The card_name does not have foreign transaction fees and has auto rental collision insurance.