Help Me Build Credit has partnered with CardRatings for our coverage of credit card products. Help Me Build Credit and CardRatings may receive a commission from card issuers. The editorial content on this page is not provided by any of the companies mentioned, and have not been reviewed, approved or otherwise endorsed by any of these entities. Opinions expressed here are the author's alone.
Card Overview
The Alaska Airline Business card is great for Alaska Air purchases, earn 3 points spent on that. You will receive a free checked bag with Alaska Airlines, you and six guests! Get Alaska's famous companion fare every year.
Card-Smart Tips & Advice
Credit: Good credit needed
It is advised to have a Bank Of America business checking account for a better chance of approval.
Max cards: Bank of America will not approve you for their credit card if you opened more than 2 cards in the past 12 months, even if it's from other issuers.  Except if your a BOA bank account holder, then, you can get approved even if you opened up to 6 cards in 12 months
24 month rule: You "may" not be eligible for a new card if your business entity currently has, or has had, another business card with Bank of America in the past 24 month period.

Apply for two cards: If you apply for one Bank Of America card and get approved, it is recommended to apply for a second card since Bank Of America is very good about approving for two cards, even within the same day

Not reported on personal credit reports: Bank Of America will not report business credit cards on personal credit reports.
Credit bureau: Bank Of America will usually pull your Transunion credit report for business cards
Combining same-day credit inquiries: Credit inquiries for all Personal BOA cards for same-day applications will be combined; also, Credit inquiries for all Business BOA cards for same-day applications will be combined.
Check application status: You can check your application status

 

here

Reconsideration: If declined you can call the business underwriting department at 1-888-569-4439 to be reconsidered (only for business cards)

Quickest way to get my card: You can request Bank of America to expedite your physical card by calling Bank of America customer service. Bank of America will in most cases not offer an instant credit card number for your new card.

Downgrade options: Unfortunately, the Alaska Airline Business card ($50) cannot  be downgraded  (you can close the card without it hurting your credit score as the card does not show on your credit report).
Approval Monitor
(submitted by HelpMeBuildCredit users)
Credit limit range $6,000-$19,000
Avg. Credit limit$10,714
Disclosure: These results are based on information submitted by HelpMeBuildCredit users. Credit card approval results are not provided or commissioned by the bank advertiser. Responses have not been reviewed, approved or otherwise endorsed by the bank advertiser. Neither HelpMeBuildCredit nor the bank advertiser's take any responsibility on the accuracy of the information.
HelpMeBuildCredit credit ranges are a variation of FICO®️ Score 8, one of many types of credit scores lenders may use when considering your credit card application
Welcome Offer Eligibility
You "may" not be eligible for a new card if your business entity currently has, or has had, another business card with Bank of America in the past 24 month period. These are the official terms of Bank Of America but I have never seen it be enforced. In real life, we see them approving the same card again and again, even the same day, and getting the bonus.
Card Details And Benefits
Foreign Transaction Fee
No foreign transaction fee.
Free Baggage
First checked bag free for you and up to 6 companions.
Companion Certificate
Earn an Alaska's Famous Companion Fare after spending $6,000 within each card anniversary year. You will need to pay $99 plus the companions taxes and fees.
Lounge Access
Get $100 off annually for an Alaska Lounge+ Membership.
Auto Rental Collision Insurance
Worldwide secondary coverage on rentals (excluding rentals in Israel, Jamaica, the Republic of Ireland, or Northern Ireland). Coverage is for rentals up to 31 days. Coverage is provided through Visa Business.
Extended Warranty Protection
Get one additional year to your original manufacturer's warranty time. (Will only cover if the original warranty is for 3 years or less). Max $10,000 per claim, $50,000 per cardholder. Coverage is provided through Visa Business.
Purchase Protection
Get refunded if your purchase is lost or stolen, up to 90 days from the date of purchase. Max $10,000 per claim, $50,000 per account. Coverage is provided through Visa Business.
Priority Boarding
New! Get complimentary priority boarding
Inflight Savings
Receive 20% back for inflight purchases of Wifi, food and drinks.
How can the points be used?
Award flights
The points can be used at approximately 1 – 1.3 cents per point to book award flights with one of the following Alaska airline partners:
Alaska Airline

American Airlines

British Airways 

Cathay Pacific 

ELAL

Fiji Airways

Finnair

Iberia

Japan Airlines

Malaysia Airlines

Qantas

Qatar Airways

Royal Air Maroc

Royal Jordanian

S7 Airlines

SriLankan Airlines
How to book
You can book award flights using your Alaska miles with Alaska airline and its partners here.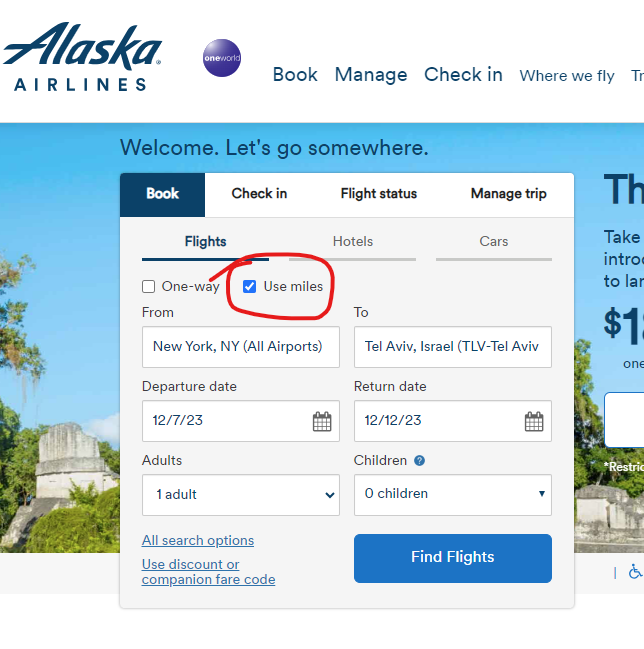 To book award flights with the following Alaska airline partners call 1-800-252-7522:
Good redemptions
First thing Alaska asks you to do when you get to the Award Charts page, is choose where you want to fly.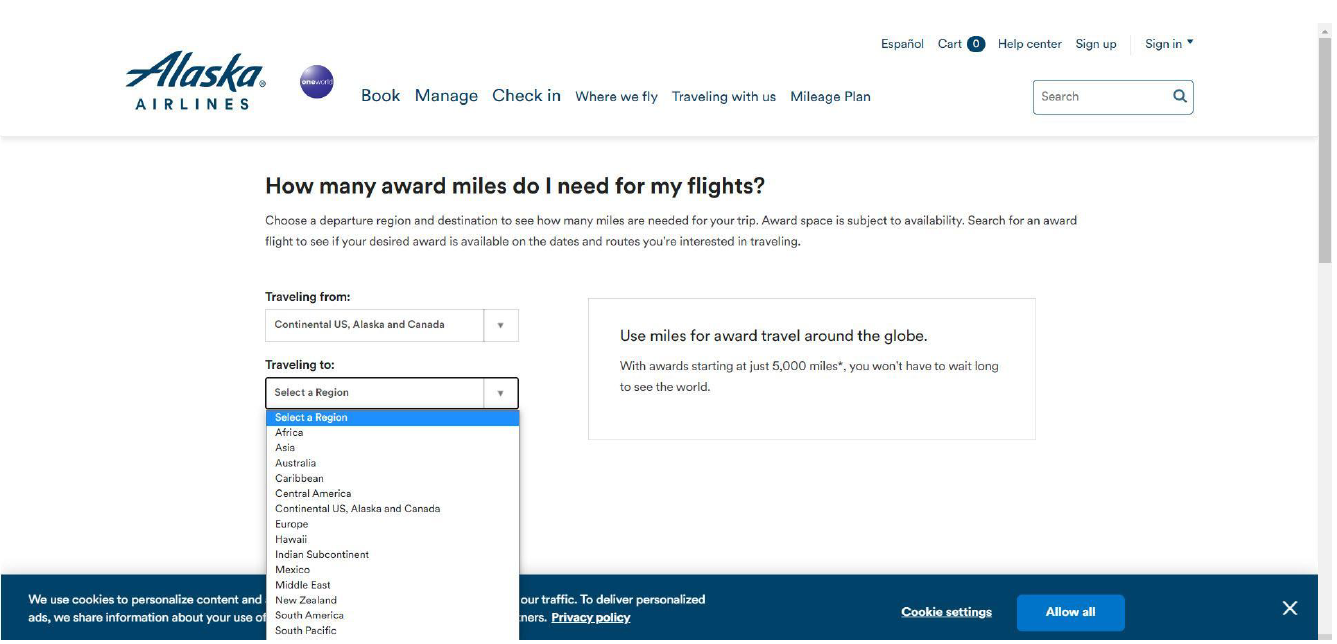 Then, depending on your input, it offers you a choice of partner airlines. Alaska has different award charts for its own flights and for each partner. Some of theses schemes are distance-based, while others are region-based. 
Keep in mind that Alaska allows you to have one free stopover for every one-way flight on all airline partners, so you can basically get two free stopovers on a round-trip ticket.
While Alaska's own award chart is pretty decent, I'd hesitate to use Alaska miles for anything other than long-hauls in international Business Class. In the end, Alaska miles are not easy to come by and you shouldn't waste them on mediocre redemptions. Having said that, here are some options you might find useful.
Within U.S. and Canada in economy starting at only 5k miles 
If you live in the Northwest, you might find Alaska distance-based rates very attractive. They start from 5,000 miles for flight distances under 700 miles and 7,500 miles between 701 and 1,400 miles. And in many (but not all) cases, this chart covers only the distance between your origin and the final destination regardless whether your flight requires a connection or not. 
Fly within Alaska on Alaska
This might feel obvious, but it's worth reminding that Alaska Airlines is the primary carrier in the 49th state, with an extensive network often corresponding with astronomical fares. If you're on a mission to explore this fascinating land, Alaska miles can save you a bundle.
Fly to Asia on Hainan in Business for 50,000 miles
50,000 miles to Asia in Business would be a fantastic value, especially that Hainan award seats are relatively easy to come by, but unfortunately Alaska adds fuel surcharges to Hainan flights that seem to start around $150 for one-way flight to China and go even higher depending on your final destination. Still, it's a solid choice for a lie-flat seat on an ultra long-haul flight.
Fly on Singapore First and Business Class to Asia
As much as I'm reluctant to recommend buying Singapore flights with Alaska miles (they're a bit overpriced), it's one of the very few Singapore partners that has this options. The vast majority of Singapore airline partners don't have access to the carrier's premium class ultra long-haul awards, so if you're hell-bent on pampering yourself in Singapore Business or First Class (and if you can find the space, that is) Alaska miles are a viable option. Here is what it's going to cost you.
| | |
| --- | --- |
| | The U.S. to Japan |
| Business  | 80,000 |
| First  | 110,000 |
| | |
| --- | --- |
| | The U.S. to Southeast Asia or China |
| Business  | 100,000 |
| First  | 130,000 |
Fly to South America in Business for 45,000 miles
Finding LATAM Business Class tickets is notoriously hard, but if you manage, you can fly to the far reaches of southern South America for only 45,000 miles. 
Fly in cheap Business and First Class to Asia
| | |
| --- | --- |
| | American Airlines to China and Japan |
| Business | 60,000 |
| First Class | 80,000 |
| | |
| --- | --- |
| | Cathay Pacific to Asia |
| Business | 50,000 |
| First Class | 70,000 |
| | |
| --- | --- |
| | Japan Airlines to Asia |
| Business | 60,000 |
| First Class | 70,000 |
Fly in cheap Business and First Class to the Middle East
| | |
| --- | --- |
| | Cathay Pacific |
| Business | 62,500 |
| First Class | 70,000 |
Fly in cheap Business and First Class to Australia, New Zealand and the Pacific
Australia

Qantas

Business

60,000

First Class 

70,000

Cathay Pacific

Business

60,000

First Class 

80,000

Fiji

Business 

55,000
New Zealand

Qantas

Business

55,000

First Class 

70,000

Cathay Pacific

Business

60,000

First Class 

80,000

Fiji

Business 

55,000
| | | |
| --- | --- | --- |
| | | South Pacific |
| Fiji | Business | 55,000 |