The card_name currently has an increased welcome offer of 80,000 points after you spend $4,000 within the first 3 months. If you're eligible for the card then you would want to grab the card now while the offer is up. 
The card_name is not a starter card or credit repair card. You need good credit to get approved. Here is what you need to know regarding what credit factors are needed.
What credit score do I need to get approved for the Sapphire Preferred card?
In most cases, you need a min of a 700+ credit score. According to results in our database, the average score for approved applications on the card_name is 747.
How much credit history do I need to get approved for the Sapphire Preferred?
In most cases, Chase will want to see a minimum of 12 months of credit history. It's important to note that Chase will only count your own credit cards, not authorized users (90% of the time).
If you have $10k or more in your Chase bank account then Chase can sometimes approve with less history as well (in some cases, I have even seen people getting approved with absolutely zero credit history).
What other factors will Chase look at?
Chase will not like it if they see another inquiry on the same day you apply, or two or more credit inquiries within the past six month. 
You also need to make sure you're not above the Chase 5/24 rule. In short, the Chase 5/24 rule means that Chase will not approve you if you opened 5 or more personal credit cards within the past 24 month. You can read a lot more about the Chase 5/24 rule here.
Which credit bureau will Chase pull?
Chase pulls your Experian credit report most of the time. 
What credit limits are being approved?
Chase is approving generously for the card_name card. Within the past few months, there have been many approvals reported in our Credit Card Database. The credit limits they were approved for range from $5,000 to $40,000.
The 48 months rule / and no current Sapphire
In order for you to be eligible for a new Sapphire card it must be 48 months since you've received your last welcome bonus on any Sapphire card, (including the Chase Sapphire Reserve).
There is also another rule to keep in mind. Chase will not approve you for this card if you already have any other Sapphire card open. This includes the Sapphire, card_name, and Chase Sapphire Reserve.
If the Sapphire card was downgraded to a Freedom you are eligible to sign up for a new Sapphire (as long it was 72 hours since you downgraded and 48 months from when you got the bonus) 
(If you get declined due to the 48-month rule or due to already having a Sapphire card then Chase will not pull your credit).
If I got declined, how do I get Chase to reconsider?
Call the Chase Underwriting Department at 1-888-609-7805. You have to call within 30 days of when you applied. Chase won't do another hard credit pull to get your application reconsidered. You'll ask them to please have another look at the application. They have a friendly group working in the department and they'll do that gladly.
A good idea is to ask Chase to move an existing Chase credit limit from another Chase card in order to get the new card approved (you can only do personal-to-personal or business-to-business).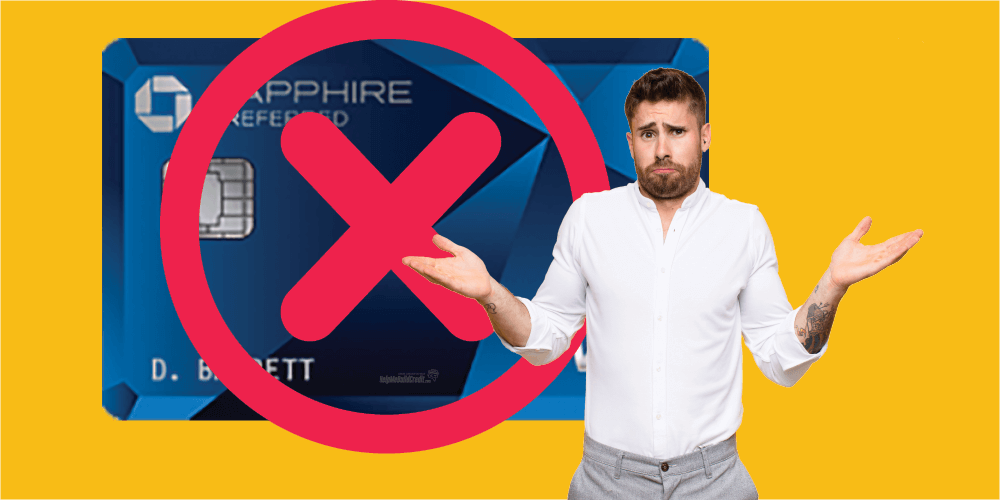 Got Declined For The Chase Sapphire Preferred Card? How To Overturn The Decision
You probably have seen our multiple posts about the 80k offer after spending $4,000 within the first 3 months on the Chase Sapphire Preferred card. Did you apply for...
Read Post
card_name >>