Nowadays, you can get everything in disposable. You can get disposable cups, plates, forks, tablecloths, and even slippers! But how about disposable credit cards?
Welcome to temporary credit cards a.k.a. virtual credit cards!
What is a temporary credit card?
With a temporary credit card, you have the option to create a one-time-use credit card number to be used once. You then cancel the card right after you use it. When using a temporary credit card, a temporary credit card number, expiration date, and security pin will be generated instantly online. You can use it for any online transaction (as it is a virtual card, not a physical one).
Pros of temporary credit cards
Protection – The main benefit of a temporary credit card is to protect you from a thief stealing your credit card information. It's true that with most credit cards you are protected from fraudulent transactions and you don't really carry any liability for fraud. However, people would still like to protect themselves from fraudsters being able to obtain their credit card numbers and the extra work of disputing charges and proving that the transactions were indeed fraudulent.
Cancel free trials easily – Another side benefit of using a temporary credit card is for those times when you sign up for a free trial, which requires you to enter your credit card information that will be billed if you don't cancel the trial. Many times you get stuck with a faulty website or bad customer service and it becomes a headache for you to cancel the trial. Or maybe you just forget and suddenly see a surprise monthly charge appear on your credit card statement. With a temporary or virtual credit card, you don't have to be busy canceling the trial. Just cancel the card.
Cons of temporary credit cards
Returning an item– Many times, when you want to return an item that you bought online to a physical store, the customer service counter will ask you for the last four digits of the card you used to purchase the item. If you use a temporary credit card, you may not be able to provide the last four digits.
Car rental booking- When you book a car rental, you usually need to show the physical credit card you used to book the car at the front counter. With a virtual credit card number, this will not be possible
Which banks offer temporary credit cards?
Most banks do not yet offer temporary or virtual credit cards.
Here is how to get a virtual credit card directly from your credit card issuer or through third party companies:
Capital One Cards
With Capital One, you can create a virtual card through their chrome extension called Eno. After you download Eno, you can create your virtual card once you reach the checkout page of the website you are on. The Eno chrome extension will automatically pop up every time you reach a checkout page. The card will be saved in your virtual wallet for future payments by this merchant. For each merchant, you will need to create a new virtual number.
Capital One makes it very easy to create the virtual cards through the Chrome extension pop-up. The numbers auto-fill on the checkout page. You can, at any time, lock or cancel the virtual credit card to protect you from future fraudulent purchases.
Citi Cards
Citi lets you create a virtual account number for some of their credit cards. I'm not sure which credit cards are eligible. I checked my Citi Double Cash, Citi Rewards, and Citi AA Mileup card and I was able to create virtual cards with all of them. As per TheCreditcard insider, all Citi Cards are eligible except for the Citi Costco cards and the Citi Dividend card (which is not available for new applicants). You can create a virtual card by logging in to your online banking and clicking on "virtual account number".
The temporary virtual card can be canceled at any time to protect you from future transactions. You can also set an expiration date or spend limit for each virtual credit card
Amex Cards
Amex only offers virtual credit cards for their corporate cards. Corporate cardholders can create virtual credit card numbers for themselves or for their employees through the Amex Go portal or in the Amex Go app.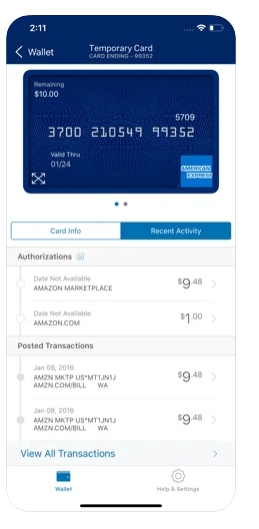 Apple Card
The Apple Card was designed to be (mostly) used virtually. You can generate a new virtual card number on demand. The virtual account number can be changed at any time but you can only have one virtual card at a time. If you reset the card, you will need to reset it all over where the card number was previously saved unless the retailer uses a card-on-file account updater service to get the new number from Mastercard directly. (Due to the card-on-file account update service by Mastercard, Apple cards are not the best option to be used to cancel free-trials as mentioned above)
Alternative options on how to get virtual credit card numbers:
Does your bank not offer temporary or virtual credit cards but you still want to take advantage of the virtual credit card features? You can still do that through a third party.
Here are your options:
PayPal Key
Earlier this year, PayPal released a one-of-a-kind future that allows you to create a virtual card for any credit card. (This excludes Amex. They used to allow Amex but stopped later on). The future is called PayPal Key. When you create a PayPal key virtual card, Paypal will ask you which of your credit cards (that are saved within PayPal) you want the virtual card to be tied to. Whichever card you choose will be the card that will be charged whenever you use the virtual card. You can use the PayPal key regardless if the merchant has a PayPal check-out option or not, as long as the merchant accepts MasterCard credit cards (PayPal Key virtual credit cards run on the Mastercard network). The virtual credit card number can be entered at checkout just like any MasterCard credit card number.
You can, at any time, change or cancel your PayPal Key virtual account number.
DoNotPay
DoNotPay has a lot of interesting services and one of them is that it allows you to generate a temporary one-time use credit card. If you're looking to sign up for a free trial, you do not have to worry about canceling the subscription after the free trial is up (so that you don't get billed). You can generate a one-time use credit card number through DoNoPay. It won't be a real credit card- it will just be fake credit card digits, expiration date, security pin, which you can enter into the credit card fields to fool the company into thinking you're providing them with a real credit card.
Keep in mind that DoNotPAy charges $3 per month to be a member.