Your credit card search is about to go from great to super with the launching of our expanded credit card search filter categories in the Ultimate Credit Card Finder.
It's taken a lot of work and precision, but the results speak for themselves.
Amazingly, you can now easily choose your cards by searching through the new and detailed card categories.
You can search cards based on Best offer cards, 0% APR cards, first cards, travel cards, etc. But, we broke up those categories even more so that you can pinpoint the EXACT card you want, under the EXACT category you need.
The cards are categorized according to card rewards and benefits and rank from highest point earners to lowest.
Here's is the breakdown of all the new categories added
Card options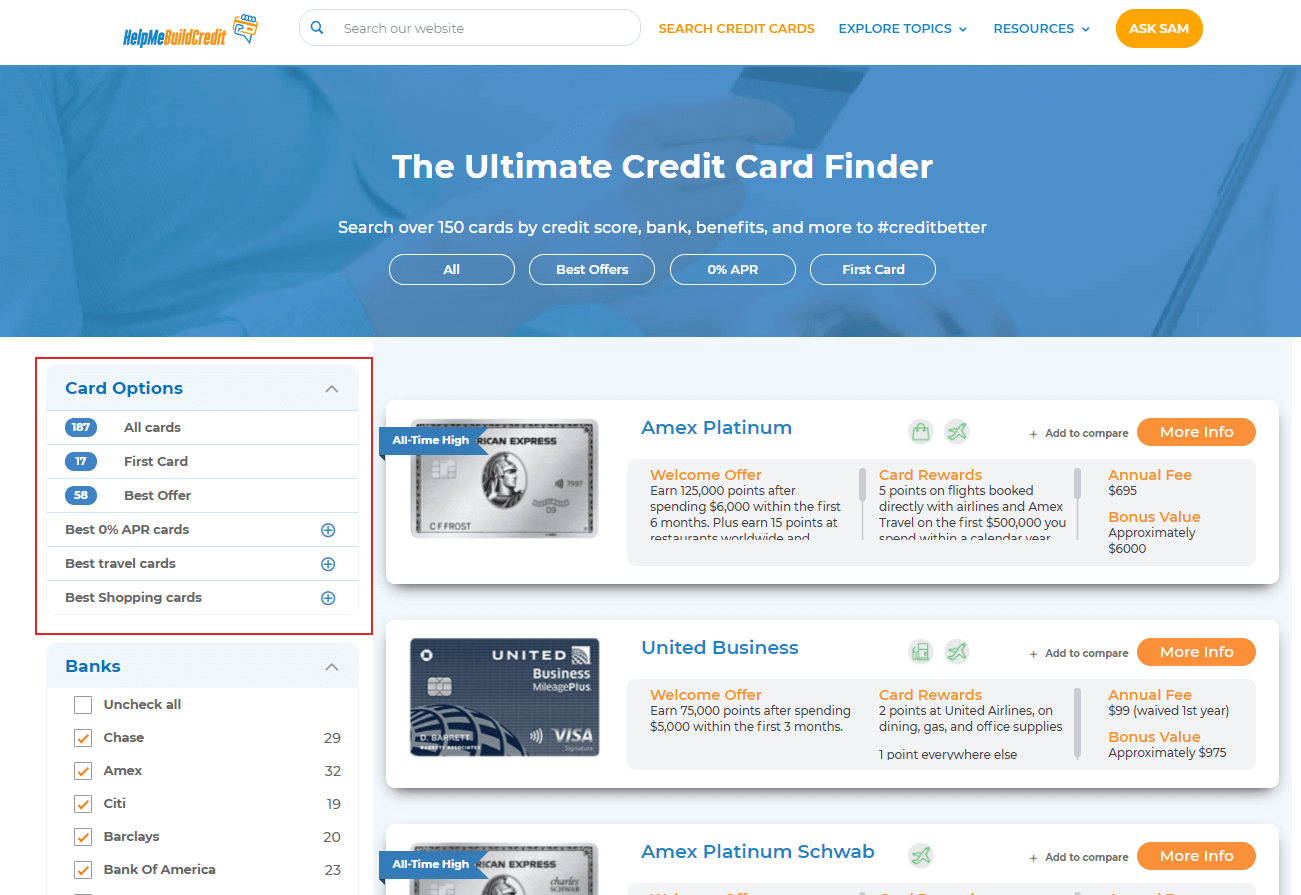 When you visit the Credit Card Finder, you'll see the card option box on the top right.
You can search amongst the credit cards by clicking and viewing one of the following options; All Cards; First Cards (which are cards for those beginners to credit); or Best Offer Cards.
The best offer section even lets you use the slider to set your average monthly spending amount, to pull up the cards with best offers that are most realistic for you according to what you spend a month.
Those categories aren't new, they're just as good as new and I'm sure have been making your credit card search easy.
Now for the newly minted search options.
Best 0% APR Cards
Many credit cards have intro 0% APR offers which give you a set time period of a given amount of months in which you don't have to pay APR on either balance transfers or purchases, or both.
Select Best 0% APR Cards to see all cards that have 0% APR.
Now click on the little plus sign to narrow down your search; you can now search 0% APR cards according to what the cards offer 0% APR on.
0% APR On Purchases
You can select 0% APR On Purchases to show cards with 0% APR on purchases.
0% APR On Balance Transfers
Or select 0% APR On Balance Transfers to only see cards with 0% APR on balance transfers. 
Cards that have 0% APR on both balance transfers and purchases will show up under both options.
Best Travel Cards
Get your passport out. And book your flight, car, and hotel stay. You're about to find your favorite travel cards so quickly, you won't resist flying off.
By clicking on Best travel cards, you're about to drill down the best cards for everything travel.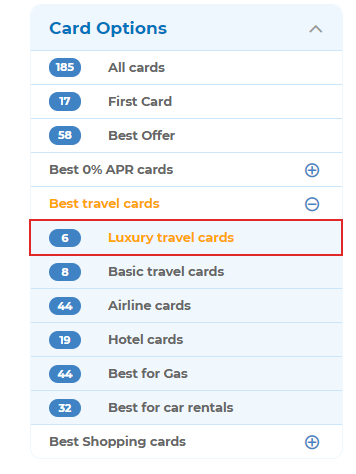 Luxury travel cards
Luxury travel cards will give you the selected few cards that have luxury travel benefits like elite status, airport lounge access, etc .
For example the  Amex Platinum card that comes up as a luxury travel card. You get Hilton and Marriott Gold status, Uber VIP, a $200 airline incidental fee credit each calendar year, a $179 CLEAR statement credit per year, access to over 1,200 airport lounges with complimentary membership to various lounges, trip cancellation insurance, lost luggage reimbursement, cell phone protection, and so many more travel benefits. Deemed worthy of a luxury travel card.
You can find more luxury cards under the luxury travel card option.
Basic travel cards
Select basic travel cards to view a select few cards that have basic travel benefits, like no foreign transactions fees, auto rental insurance, lost luggage insurance, or other basic travel related benefits that are good for anyone traveling often but are not looking to pay a high annual fee for luxury benefits.
Airline cards
Next up are airline cards. Here you'll find all bank co-branded airline cards. If you fly specific airlines often, this is the place to check out and choose a card that will help you cash in on the most airline benefits that suit your fancy.
Hotel cards 
Same for hotels. By selecting hotel cards, you'll find credit cards under Marriott, Hilton, Hyatt, Wyndham, IHG and more. Again, this section will get you the card you can make the most of if you visit specific hotels often.
Best for gas
Transportation vehicles, you gotta fill 'em up. Here's the spot to instantly view all cards that are best for gas listed from the highest rewards earners and going down.
Best for car rentals
Travelling often includes car rentals. Now, I'm sure you want to be insured as much as possible. Listed in this category are all cards that offer good points on car rentals.
Best Shopping Cards
Now come the cards you most use on a daily basis. 
Click the little plus sign, (and you can always close the section by clicking on the minus sign) to have the shopping categories unfold for you.
This credit card search is the most comprehensive it's ever gotten. Following are the shopping categories by which you can organize your card search:
2% cashback cards

Best for Amazon

Best for restaurants

Best for groceries

Best for drugstores

Best for home improvement

Best for office supplies

Best for phone and internet

Best for advertising

Best for shipping
Have you ever seen such an awesome list?!
You literally just have to decide what you shop most, click on that category in the list, and go for the card that best suits your needs.
As always, cards will be listed from the highest rewards earners and going down 
Search options
Those were all the new categories we added to the Ultimate Credit Card Finder. But let's not forget about the rest of the search tool. You can mix and match and drill down the card search even more.
Let's take the following case:
You want a card that is good for gas.
You click on the plus sign near Best Travel Cards.
And then on Best for Gas.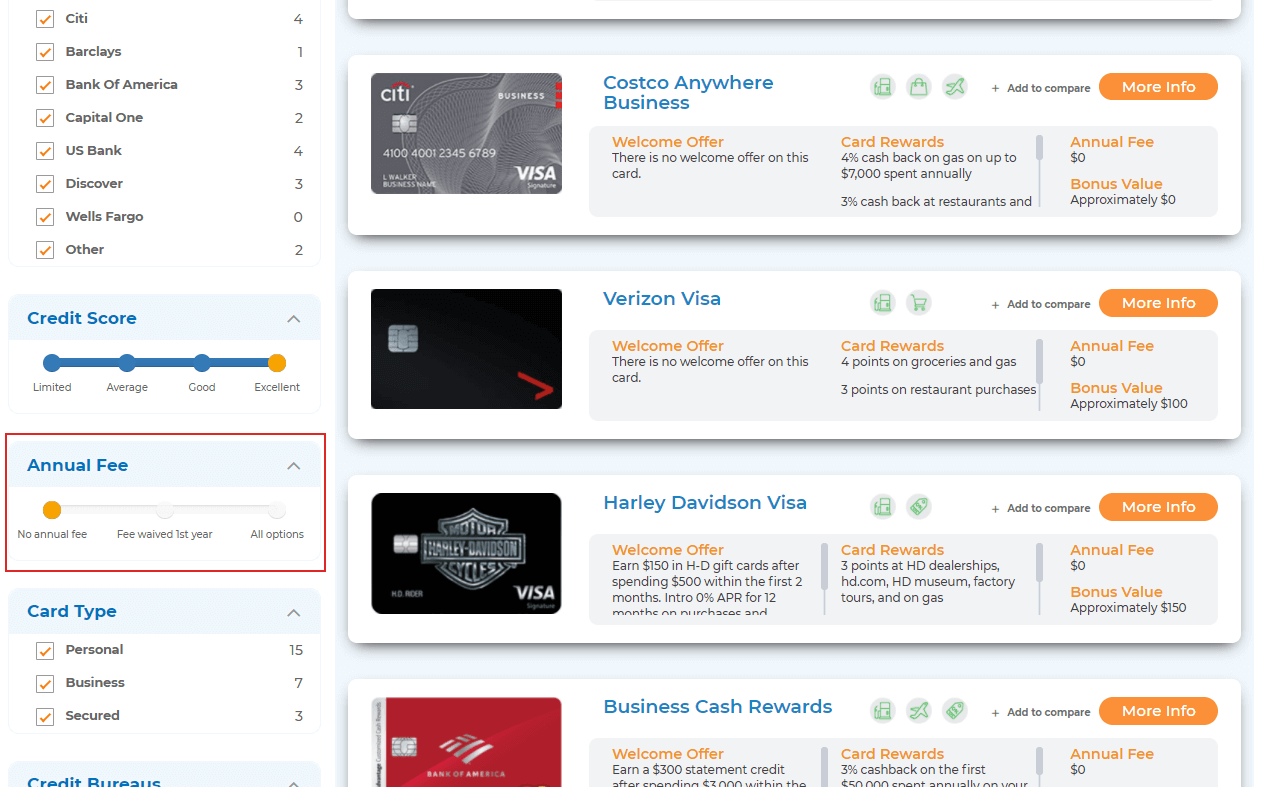 You also want the card to have a zero annual fee.
There's your card – Citi Custom Cash. With this card, you get 5% cashback in your top eligible category each billing cycle, on up to $500 per billing cycle, then 1%. Gas seems to be your top category, so that's perfect for you, and the card has no annual fee. 
You can always clear all filters by clicking on "clear all", or just click on the little x sign near the filter.
How's that for customization at your fingertips?
We'd love to hear from you and how you feel about the new search categories. Leave your comment below or send an email to sam@helpmebuildcredit.com to share your experience.